Hydro excavation involves the use of pressurized water, wands, and vacuums to reach underground utilities. Crews that need to trench or access components below grass and soil rely on this technology to complete tasks without disturbing nearby surfaces. Hydro excavation methods promote maximum uptime, but it is vital to follow a safety checklist to reduce the chances of an injury.
Applications of Hydrovac Equipment
Any excavation job that would normally involve heavy-duty machines and attachments can be performed with hydro excavation technology. Professionals look to hydrovac trucks and accessories to loosen surface materials and remove dirt. Some common applications of hydro excavation equipment include:
Creating channels for cables and pipelines.
Digging into frozen surfaces.
Preparing commercial building sites.
Relocating rocks, sand, and aggregates without a backhoe loader.
Installing road signs and electrical poles.
Uncovering sewer lines for repairs.
The Importance of Hydrovac Safe Work Procedures
Hydro excavation should only be performed by trained professionals. Ignoring hydro excavation safety procedures can result in hazardous work environments, electrical shocks, and fatalities if ignored.
The checklist outlined below will help your employees stay productive year-round while keeping safety initiatives in mind.
1. Prioritize Personal Protective Equipment (PPE)
Similar to roadwork and construction tasks, hydro excavation jobs require safety gear. Under no circumstances should an employee be within close proximity to a powered wand without protective equipment.
Workers face the risk of sharp objects kicking up during procedures, so the following items are your first line of defense against accidents:
Goggles
Earplugs
Hard hats
Gloves
Long-sleeve clothing
Face masks
Steel-toed boots
Face and eye protection for hydro excavation must meet ANSI Z87.1-2015 standards to be effective against flying debris.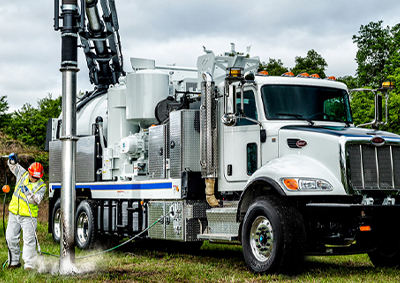 2. Focus on Employee Training
Hydro excavation equipment controls look different based on the manufacturer. Before heading to a site, crews must understand how to set up their equipment and choose a nozzle that best suits the task at hand.
Businesses looking to expand into new opportunities should reference equipment manuals to learn more about the capabilities of their purchase. Familiarizing yourself with emergency shut-off functions and water pressure settings enables teams to streamline their efforts with fewer errors.
3. Gather Information About Your Environment
Hydro excavation equipment is useful for utility installations and repairs underground. Before trenching, project managers must provide employees with the location of pipelines and other connections below a working surface. This reduces the chance of high-pressure water interfering with sensitive lines vital to construction.
Below are some common infrastructure networks you should identify and outline prior to starting a hydro excavation project.
Underground Electrical Cables
Imagine that all underground cables associated with your assignment are live. All staff members should be aware of electrical cables surrounding a construction job, and appropriate signage can be the difference between a safe hydrovac procedure and a serious injury.
Most projects with electrical concerns call for project managers to place hazard signs within 3 meters (9.8 feet) of hydro excavation trucks. If electrical cables for utilities run below working surfaces, ensure workers do not make direct contact with the metal surfaces of vehicles. Always use hydro excavation equipment nozzles and vacuums with non-conductive coatings to prevent life-threatening accidents.
Underground Gas Lines
Gas lines can take damage if exposed to high-pressure water. Taking the time to mark the location of underground gas lines with spray paint and flags communicates that employees should proceed with caution.
Hydro excavation equipment operators should switch to low-pressure settings when trenching in close proximity to gas lines. It is recommended that crews dig by hand for repairs once your hydrovac methods put you within 1 meter (3.3 feet) of an underground connection.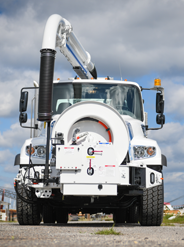 4. Follow Manufacturer's Instructions
One of the most important hydro excavation safety procedures is to reference your owner's manual between projects. Equipment manufacturers include guidelines for pressure settings as well as general rules for correct use.
The following instructions apply to all hydro excavation wands and nozzles:
Equip wands with the smallest nozzle suitable for your assignment (increases user control).
Only point nozzles in the direction of soil for excavation procedures.
Maintain a distance of about 8 inches between the nozzle and ground when spraying.
Refrain from inserting nozzles directly into the soil when wands are powered on.
5. Utilize Equipment Made for Hydro Excavation Work
Investing in the right tools for an assignment allows you to stay safe and productive. Ensuring trucks, wands, vacuums, and nozzles are specifically designed for hydro excavation work enables your employees to meet deadlines without cutting corners.
Partnering with a reliable equipment supplier is vital for hydro excavation tasks, as professionals in the industry will explain your options for trucks that exceed expectations for performance.
Choose Southern Vac for Hydro Excavation Trucks in the Southeast
If your company operates out of North Carolina, South Carolina, Tennessee, or Georgia, Southern Vac is your source for hydro excavation equipment. It's our goal to be your trusted partner for success, so we provide you with all-new hydro excavation trucks for sale at affordable prices. We also have used vehicles and rental offerings available with long-term and short-term agreements for flexibility.
Want more information about our current inventory? Complete our contact form for further assistance or speak to a Southern Vac representative today by giving us a call at 803-358-0221.