If you offer sewer cleaning services, you understand the importance of your equipment. Without cleaning machines, sewers would clog with harsh contaminants like sludge, grease and debris, resulting in damaged and overflowing lines. That's why it's vital to book sewer storm equipment maintenance services to ensure that your tools are operational and efficient at all times.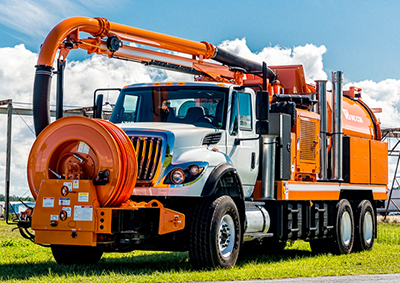 At Southern Vac, we offer reliable on-site sewer storm equipment services to get your machines back in action with minimal downtime. We serve customers across the Southeast, including the Carolinas, Tennessee, Georgia and beyond.
Sewer Storm Equipment Maintenance
It's no secret that sewer cleaning jobs require a large equipment arsenal, including hydro jetters, rodders, bucket machines, vacuum trucks — and the list goes on. With so many pieces of machinery required for a job well done, it's crucial that you book the proper sewer equipment upkeep and repairs to keep them in peak condition at all times.
When you book on-site sewer storm equipment services from Southern Vac, our knowledgeable and experienced technicians will travel to your location with the tools and resources necessary to implement high-quality upkeep and repairs with optimal efficiency. We specialize in providing world-class services geared toward promoting maximum machine performance while minimizing travel costs and service delays.
Our field services for sewer cleaning equipment include:
Maintenance: We offer sewer storm equipment maintenance services where our technicians carefully assess your machines to ensure they're in good shape while making all the necessary fixes and part replacements.
Parts: Our parts department can help you find any components you need for your storm cleaning machinery. We offer competitively priced parts that meet the highest quality standards.
Repairs: If your equipment isn't operating at its best, we'll determine the cause of the problem and do what it takes to restore its former performance.
Benefits of On-Site Sewer Storm Equipment Services
With sewer cleaning equipment servicing from Southern Vac, you'll enjoy all of the following advantages:
Minimal downtime: We strive to eliminate excessive downtime through our field services by providing highly efficient upkeep and repairs, especially during emergencies.
Cost savings: On-site sewer storm equipment services eliminate high equipment transportation costs and operating expenses while minimizing the risk of expensive machine breakdowns.
Greater convenience: Because we come to you, you'll never have to arrange for equipment transportation or leave your job site to have your machinery maintained.
Find Storm Cleaning Equipment Services in Your Area
You can ensure maximum machine performance with on-site sewer cleaning equipment servicing at Southern Vac. We serve our customers with everything from machine rentals to high-quality parts to superior services, all from our convenient location in South Carolina.
Learn more about our offerings or find storm cleaning equipment services near you!